MCN Foundation and Ethiopian Education Foundation Collaborate to Support Students
By Elisabeth Covella-Hanley
The Ethiopian Education Foundation's Mission is:
"We help destitute children gain access to university education because we believe that education is a way out of poverty" 
EEF has impressive measurable and sustainable results.
One of their successful graduates, Gizalem Derege, is the Communications Consultant – International for MCN Foundation and also works with MCN Healthcare as a Customer Experience Specialist – International. He additionally gives back to EEF as their Programme Director Ethiopia.
In one of his communications, he mentioned that the students, who stay together in a dormitory while they prepare for University, had been dining in shifts since they did not have enough plates and mugs for everyone to eat at the same time. Also, their Onion Chopper, used to prepare every meal, had broken and could not be repaired. Due to COVID they have had fewer donations and all available funds are allocated for education.
MCN Healthcare provided the funds and MCN Foundation, with the local planning and coordination of Gizalem, purchased the items.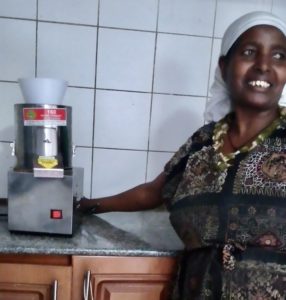 Sharing meals, sharing conversation, and spending time around a table creates such a sense of community and emotional support. Especially when times are uncertain.
We are so thankful that they felt comfortable sharing this information with us, and that we were able to quickly solve the problem.
Sometimes little solutions have a big impact.
We are grateful we were able to make a difference.
To make a donation to support the Ethiopian Education Foundation, click here.